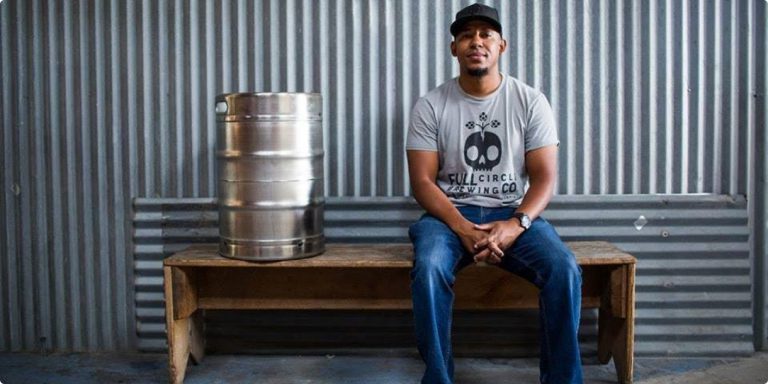 National Black Owned Brewery and Cidery Partner with U.S Black Chambers for Black History Month
Full Circle Brewing and Sonoma Cider are excited to partner with ByBlack, powered by U.S. Black Chambers, Inc. (USBC) to release a beer and cider under its Sonoma Cider brand in celebration of Black History Month.
The partnership hopes to increase the visibility of Black-owned breweries and address the under-representation of Blacks in the craft beer and cider industry, which is less than 1% Black-owned.
The new brew and cider will be available February 1st at Full Circle Brewing in Fresno, CA and at national retailers Costco, Safeway, Raleys, Bevmo, and TotalWine. You can also purchase online at www.fullcirclebrewing.com. The ByBlack x Full Circle Brewing Black History Month special edition will be named Juicy Vibes Hazy Pale Ale and The Sickle Pineapple Cider.
"Our goal is not only to support our community but also spread awareness about Black businesses and how we can build together through collaboration," said Alicea Gay, VP of External Affairs at ByBlack. "We are excited about this partnership and look forward to seeing what else comes from it."
This marks the third year of special releases from Full Circle celebrating Black History Month, and the most exciting partnership yet with ByBlack and USBC, two premier organizations helping to promote the growth and economic agenda for Black-Owned businesses throughout the nation.
Full Circle Brewing Co. CEO Arthur Moye explains "This partnership is about charting a path for success for other minority owned breweries who have historically been underrepresented, representing less than 1% of the nearly 9,000 breweries in the country. We strongly believe representation matters and are proud to be officially certified as a ByBlack Black-owned business."
National Black Owned Brewery and Cidery Partner with U.S Black Chambers for Black History Month
Of the 1% of Black Owned Breweries many are small and local, few are able to make the jump to full scale production breweries servicing Big Box Retailers. This gap is due to historical issues of Access to Capital in the Black Community. Full Circle Brewing Co. and Sonoma Cider have bridged that gap by leveraging Crowd Equity, and encouraging others to follow suit.
This collaborative beer marks a milestone for Fresno's longest running brewery in their mission to spread the spirit of authenticity by building a network of real people with positive vibes and positive tribes that push away the negativity that too frequently guides people in this world.
This release marks the start of more innovative collaborations celebrating Black breweries planned for 2023 from Full Circle Brewing.
Questions about the collaboration and release can be directed to Adam Band at adam@fullcirclebrewing.com.