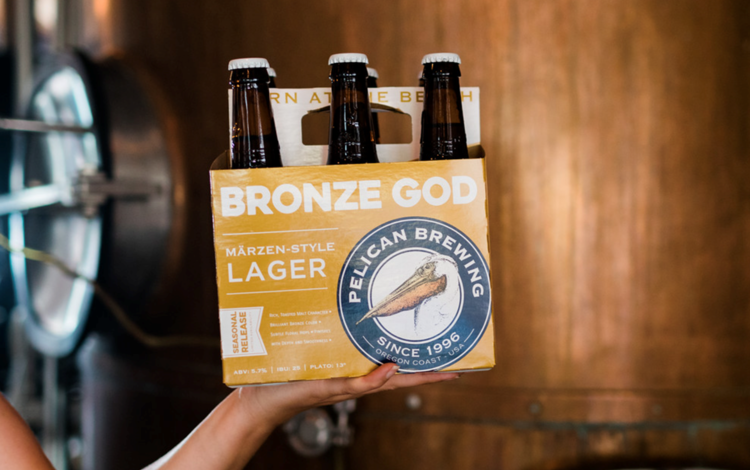 Pelican Brewing Company gives fellow fanatics something to celebrate as it welcomes back its popular Bronze God, Märzen-style Lager. The deliciously malty lager is available now in 12 oz. bottles, six-packs and on draft at Pelican brewpubs and other participating watering holes.
A medium-bodied summer-into-fall taste treat, Bronze God was born in the homebrew kitchen of Head Brewer Jason Schlebach—and affectionately named in his honor. From the first batch made for his wedding—held in the Pelican Barrel Room like the authentic brewer he is—the delicious seasonal beer has been beautifully refined to make its 2020 comeback.
Ideally suited for today's smaller celebrations and family festivity, this delicious malty lager features an abundance of rich, toasty, rounded malt flavors. With a vibrant copper-bronze color, this fest-style beer lures you in, while the clean finish, floral aroma, and moderate strength keep you coming back for another taste. Bronze God is the perfect guest of honor at your next celebration.
ABV: 5.7% | IBU: 25 | PLATO: 13º
"While 2020 has been a year for the books, this beer is intended to be a celebration—a reminder to find something to appreciate every day. We couldn't wait to bring it back to our rotating lineup,' says Schlebach.
According to an article on American Craft Beer, 'Märzen or Märzenbier (which is German for March beer) is a pale lager seasonal that originated in Bavaria. The beer was traditionally brewed in March (hence its name) and stored in caves before summer's weather made brewing lagers nearly impossible. The Märzen style has historically been associated with the change of seasons, the onset of autumn, and the celebrations that take place at that time. It was also the beer served at what became the first Oktoberfest celebration—the wedding reception for Bavarian King Ludwig I and Maria Theresa.'
"Maybe it's my Mexican-German heritage, but I'm a big fan of bold malty lagers—those that offer a full flavor spectrum but don't fill you up so easily. Bronze God is the ideal transitional beer to enjoy now and savor as evenings get cooler," continues Schlebach.
Like all Pelican beers, Bronze God is born at the beach by a team of award-winning craft beer makers known for brewing styles of beer that they themselves love to drink.