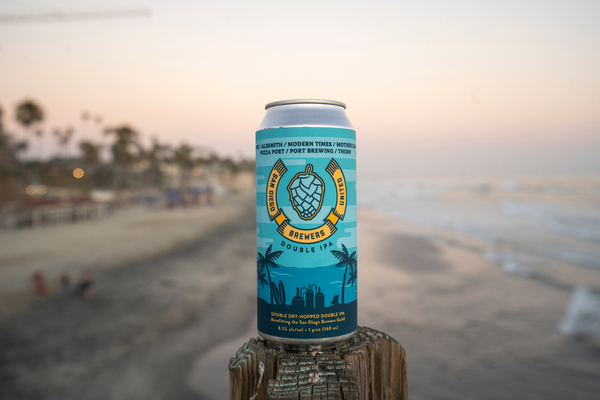 When COVID-19 abruptly shut down breweries across San Diego, one collective pooled its resources to help the local beer industry thrive. Today, Stone Brewing, AleSmith, Modern Times, Mother Earth, Pizza Port, Port Brewing, and Thorn announce the epic collaboration beer benefiting the San Diego Brewers Guild, San Diego Brewers United Double IPA.
The San Diego Brewers Guild provides imperative resources, guidance and marketing support to more than 120 San Diego County breweries of all sizes. The Guild was forced to cancel many of its revenue-generating events and generously froze membership fees to offer relief to its members during business closures. The safety measures left the organization with little revenue to support the local guild. Proceeds of the San Diego Brewers United Double IPA will directly benefit the San Diego Brewers Guild.
The beer is the incredible output of 116 years combined brewing know-how. The collaborators put their heads together to identify the most badass hops. The goal: Deliver an intense burst of juicy, dank, amazing hop character for an amazing double IPA benefitting amazing people. What better style to represent the SD beer community than a big, bold, hoppy-as-hell double IPA? Loads of bittering hops are complemented by a balanced malt backbone. As it turns out, the collaborators were all equally obsessed with Rakau and Nelson Sauvin hops from New Zealand, with dank and tropical intensity. Citra and Azacca from the Pacific Northwest deliver that citrus punch with some serious stone fruit complexity.
Beyond the Capital of Craft, the seven SD beer collaborators have one unifying force in common – Stone Distributing Co. All distribute through the country's largest independent distributor of craft-only beverages. Stone Distributing will distribute San Diego Brewers United Double IPA as a California-only exclusive. Stone's history with the San Diego Brewers Guild is a long one, as Stone co-founder Greg Koch was the original instigator of the organization and served as its first President. San Diego Brewers United Double IPA has been conceived and coordinated by Stone Brewing with enthusiastic support and participation from all six collaborators.
"Stone Distributing Co. has been such a powerful vehicle for our local craft breweries over the past two decades," explained Kris Anacleto, President of the San Diego Brewer's Guild. "The team's generosity and swift mobility of its partners continues to improve our local craft beer scene. The collaborators of this beer are some of our city's most generous and prolific brewers, making this beer a truly significant contribution to our local craft beer scene."
Supporters can also purchase a San Diego Brewers United Double IPA t-shirt, available on the SD Beer Store, with all proceeds benefiting the Guild. At purchase, those feeling extra generous can make additional monetary donations of any amount. Other shirts, hats and merchandise are available on San Diego Brewers Guild's website as well.
The craft beer community has become an ingrained piece of San Diego culture and as synonymous with the city as perfect weather and awe-inspiring sunsets. The community that grew up together will recover together – with mutual support, shared passion for beer, and a whole lot of hops.