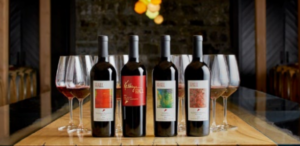 Carribean
Hall Wines and Guana Island Collaborate for Caribbean-Inspired Culinary Wine Series
Following a successful collaboration in January, HALL Wines and Guana Island are announcing a new epicurean series that will invite travelers to expand their knowledge of wines and winemaking alongside some of the freshest cuisine in the Caribbean. Guests of the two-day programming series can expect a dynamic itinerary of fine dining, wine education and good conversation, all in the stunning natural setting of Guana Island.
During the first program, from November 4-5, 2022, guests will learn about the principals of winemaking: understanding the process from vineyard to bottle. Director of Public Relations at HALL, Lisa Covey, will lead discussions about Napa Valley Appellations, terroir and agriculture. Guests will also be invited to a fruit-forward workshop, identifying similarities between HALL wine grapes and the various tropical fruits from the Guana Island orchard. The first program is ideal for those who are curious about learning more about high-end wines, with a more general approach to HALL's winemaking process.
The second program, from April 14-15, 2023, will be a natural continuation from the November session. Led by Vice President of Winemaking for HALL, Megan Gunderson, the more technical program will include in-depth discussions surrounding the art of winemaking, Gunderson's style, as well as a more technical review of the blending process. Gunderson will also offer private 1:1 wine tasting experiences for guests hoping to learn more, including details about specific vintages, regions of Napa Valley, or wines from cooler vineyard sites. The second session offers guests the chance to take an intimate look at the winemaking process from one of the top winemakers in the United States. Under Gunderson's direction, HALL has earned seven 100-point scores from the industries top critics as well as over 700 ratings 90 points and above, making HALL one of the premier Napa Valley Cabernet Sauvignon producers in the world.
Both programs in the series will include tastings of Cabernet Sauvignon wines, an intimate al fresco tasting dinner with wine pairings, one-on-one educational sessions with both Covey and Gunderson as requested, and a visit to the island's four-acre orchard to taste the island's fresh-off-the-vine produce.
The programs are open to wine-connoisseurs as well as those who simply want to sip world-class wines in a tropical setting; HALL wines offered during the immersive experience will be available to order throughout the program. Additionally, guests can learn about the HALL Wine Club Membership program, one of the most popular Cabernet wine clubs available in the luxury market.
Made up of two complementary programs that can be purchased individually or together, all activities and meals are included in the cost of the stay. Rates start at $945/night, which includes all activities.